iOS APP DEVELOPMENT WORK FOR DAVID HOCKNEY
Hockney Brushes / Hockney Brushes: Studio Tools
In the midst of a pandemic, David Hockney captured the unfolding of spring on his iPad, creating 116 new and optimistic works in praise of the natural world.
We were honoured to be able to help the artist create these on his iPad.
In order to do this, we made Hockney Brushes - an app custom built to his specifications; working with the artist and his assistants to enable him to work in the way he likes.
Aside from giving him the tools to create digital paintings, much effort was made to allow his studio assistants to render these iPad scale paintings at 16k (and beyond) for the best quality prints at much larger scale. We also gave them the ability render out every mark being redrawn, as he created them, to high quality 4k+ videos; really bringing the paintings to life. These have then been used for for shows and enormous immersive installations. They can even view and scale the paintings in AR, direct from the app.
Here's a "virtual tour" video of "The Arrival of Spring" exhibition at The Royal Academy (2021), featuring work created and exported from the app:
In his The New Yorker Cover Story, 2020, the artist made a small mention of our work and why it was needed:
"Well, I drew on the iPad when it first came out, in 2010. I thought the [original app by Steve Sprang] Brushes was just the best. But then they altered it: they made it a lot worse; it took you longer to find the brushes. And I stopped using it. In 2018, Jonathan Wilkinson, my technical assistant, said he could make a new app with a mathematician in Leeds. It was rather good, and then I got six or seven new brushes custom made..."
We first saw glimpses of many of these works he'd created with the app during spring, 2020, sent via email. Almost every day we would find a new Hockney creation, fresh from France, lifting our spirits even as the full scope of the pandemic began to dawn.
The work made headlines around the world when he released a few images to the media. Here's a BBC article ("David Hockney shares exclusive art from Normandy, as 'a respite from the news'") from the time.
Hockney AR: The Arrival of Spring
As the studio began to prepare for his Royal Academy exhibition, which opened in 2021, they asked us to add an AR (augmented reality) element to his latest "Arrival of Spring" show/catalogue: the official "Hockney AR" app, available for iOS / iPad and Android, bringing his paintings to life in the immersive realm.
Since then, we've continued to support him and his assistants; adding new features to the app to help him create work at larger and larger scales.
A Year in Normandie
In 2021, A Year in Normandie was made by joining some of the 220 paintings Hockney created on his iPad, printed onto paper and shown in a continuous length.
At 295ft (90m) it was his largest work to date. Even the catalogue itself unfolds out to reveal the full length frieze - 17 metres when fully unfolded (see below) to view the entire piece.
See https://www.hockney.com/exhibitions/past for the full video and details.
We added some new features (and a special internal "Studio Tools" version of the app) especially to help with this process of this immense scale up / blending of paintings. Reflex Arc's owner, Richard England, received a nice mention from the artist in the exhibition brochure notes for his part in this process: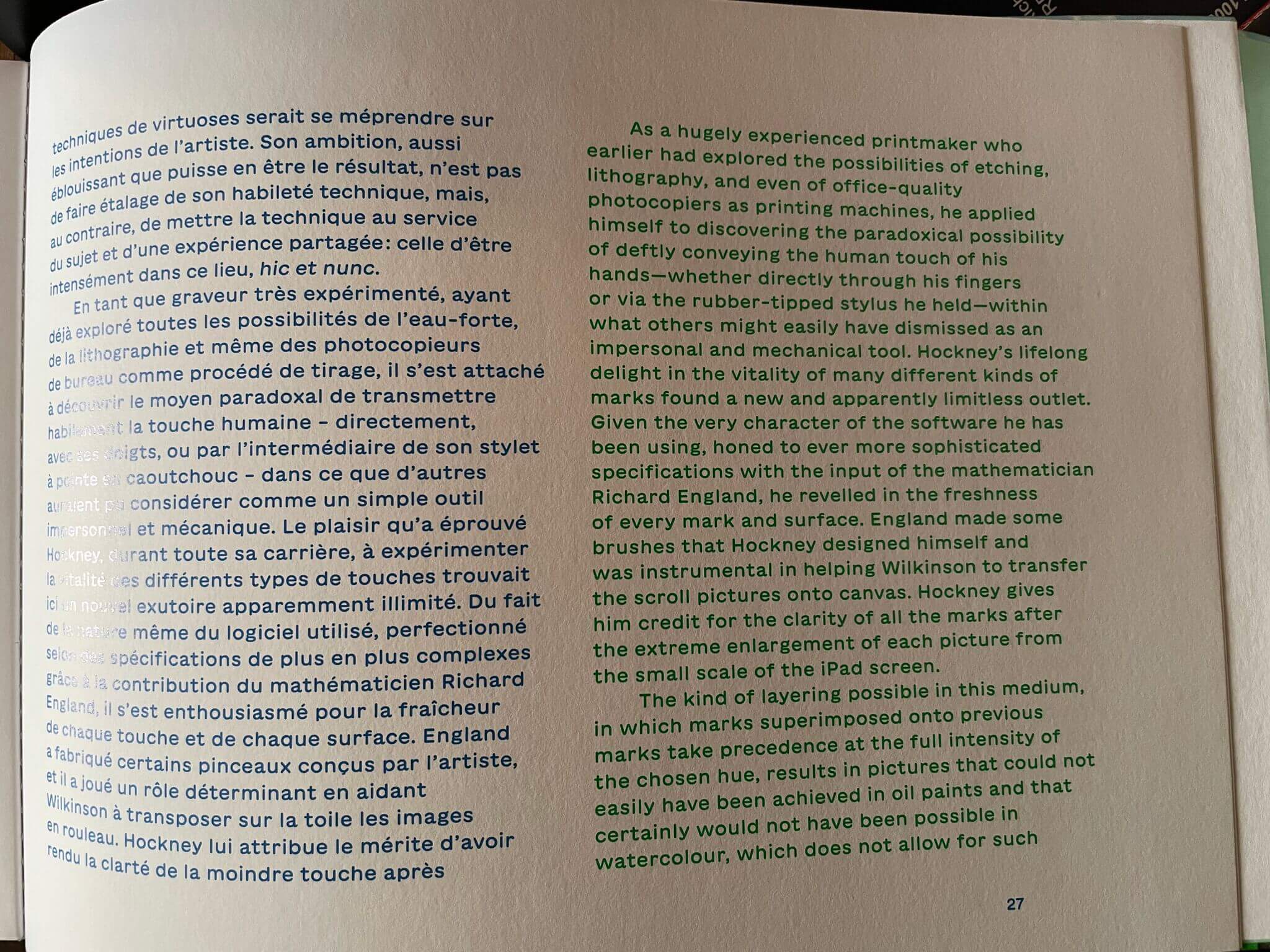 "Given the very character of the software he has been using, honed to ever more sophisticated specifications with the input of... Richard England, he revelled in the freshness of every mark and surface. England made some brushes that Hockney designed himself and was instrumental in helping [Jonathan] Wilkinson to transfer the scroll pictures on to canvas. Hockney gives him credit for the clarity of all the marks after the extreme enlargement of each picture from the small scale of the iPad screen."
The image below gives you an idea of the scale... This is only the first half of the full piece!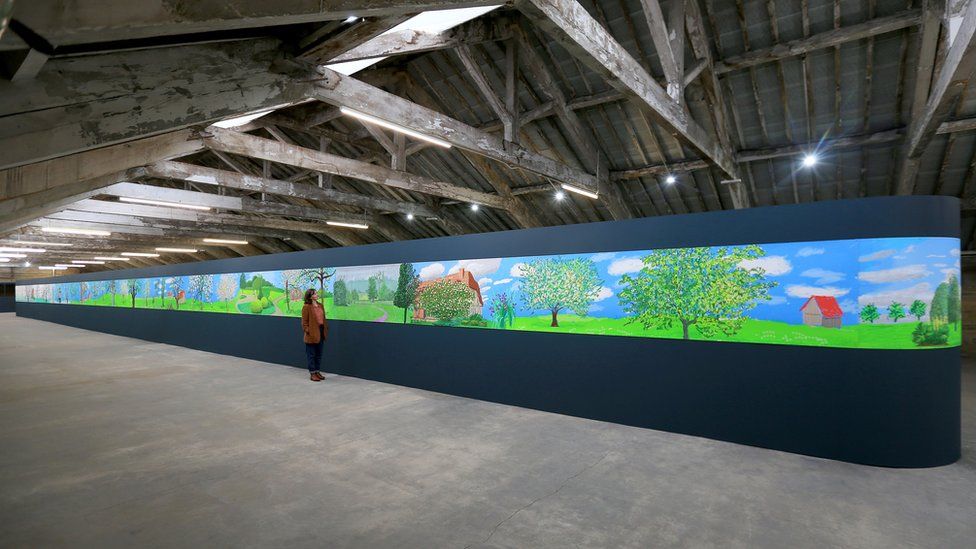 Bigger & Closer (not smaller & further away)
In 2023, we're proud to have enabled some of the work featuring in the upcoming immersive exhibition at Lightroom, Kings Cross, London: David Hockney: Bigger & Closer (not smaller & further away)
For this, we added two extra features to the app/s:
A new "grid composition" view and creation tool.
Batch exporting of high definition 4k video tiles/paintings, which capture every brush stroke being redrawn, and hence a viewer can watch the piece come to life from an empty canvas.
'David Hockney: BiGGER & CLOSER not smaller & further away' is the inaugural show at Lightroom's new premises in King's Cross – an extraordinary four-storey space in King's Cross equipped with the latest digital projection and audio technology.
In this new exhibition, Lightroom's vast walls and revolutionary sound system enable us to experience the world through Hockney's eyes.
You can get tickets for this show from the Lightroom website.
A visualisation of the exhibition.
You can watch the whole drawing being made. It plays back every mark you did. It's like looking over someone's shoulder to see them draw, and people always love doing that with an artist, don't they?
- David Hockney
'I hope it gives young people some ideas!': David Hockney's immersive art show – photo essay (Guardian article, February 2023)
Finally, here's a favourite page from one of our copies of the catalogue/s... 😀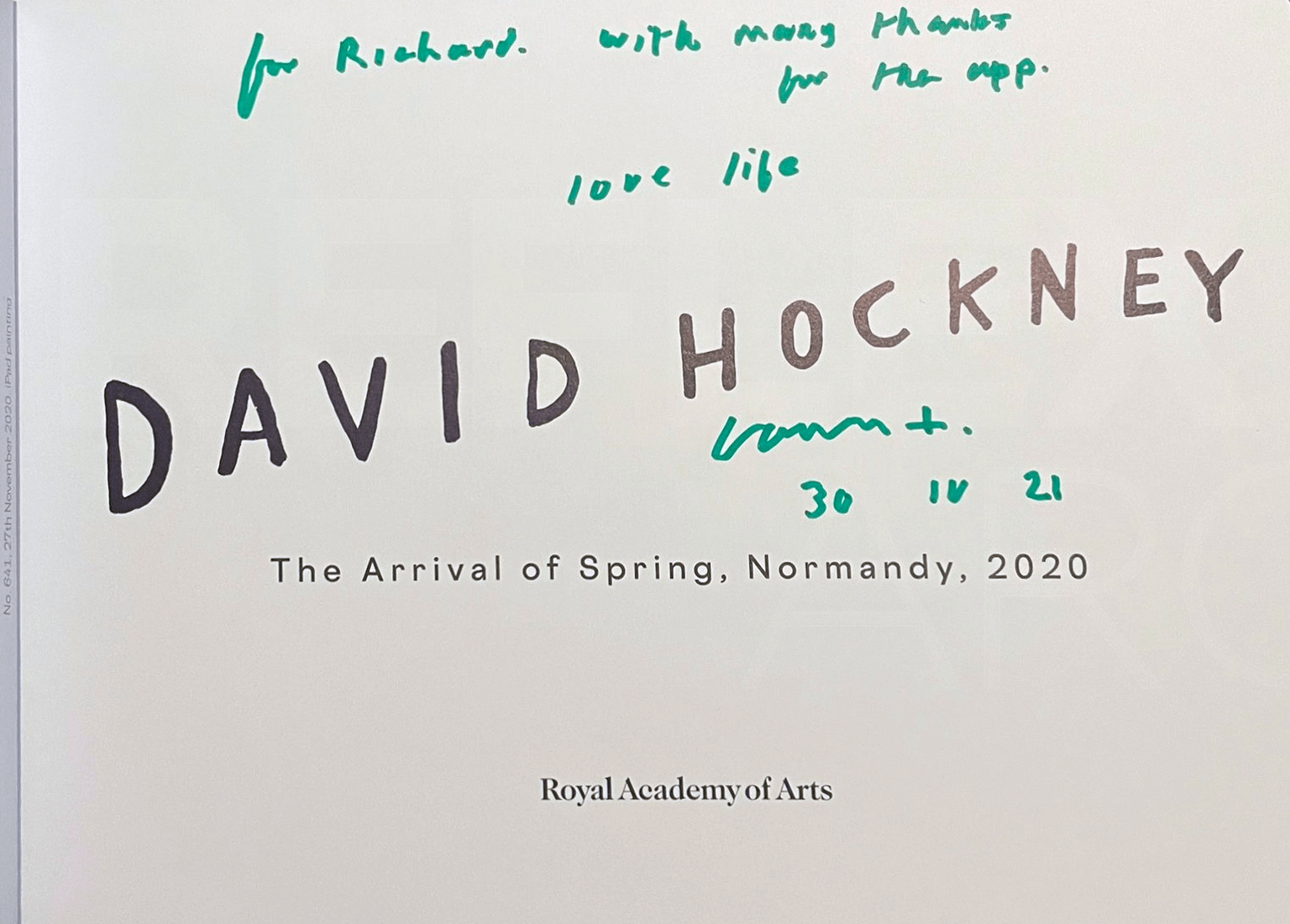 Our pleasure!
Acknowledgements
Thanks to Steve Sprang: the creator of the original Brushes app, which helped us understand the styles of brush marks the artist likes to work with.
Please note that the app we've created for David Hockney differs considerably from any version of Brushes (which are currently or have been available on the app store), and is not currently available to the public. We'd love to make it available in some form one day...